The Akinon Instore application is a versatile web application compatible with mobile and tablet devices. It facilitates Instore users' swift access to and management of customer profiles, product stocks, packaging, and transfer processes, with the overarching goal of creating a flawless omnichannel customer experience.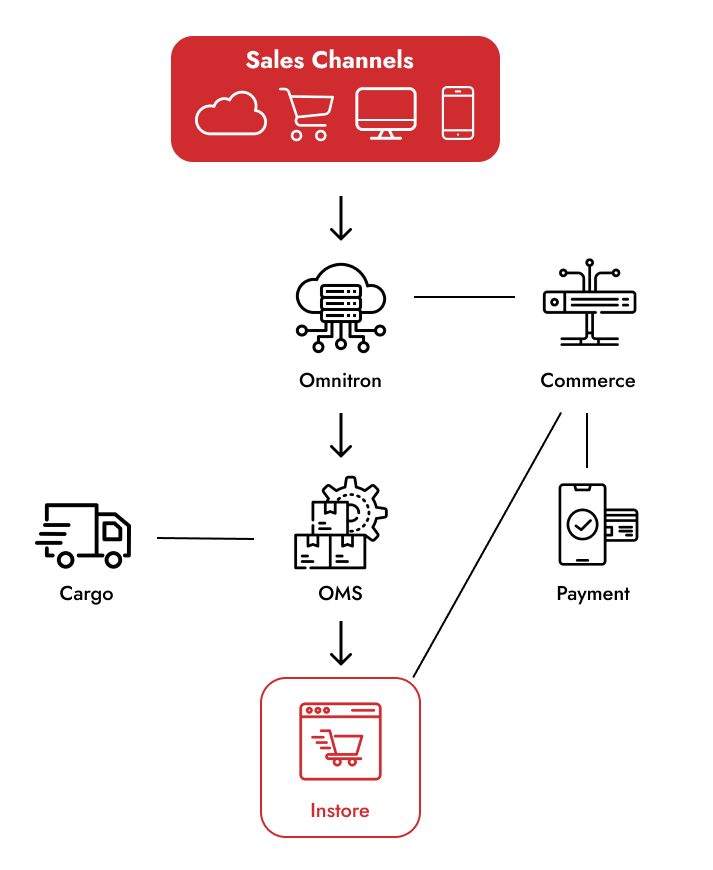 Integrated with Commerce, Omnitron BE, Omnitron FE, and OMS, the Instore application empowers store and warehouse employees to efficiently utilize Akinon applications and their functionalities. The subsequent section provides an in-depth exploration of the capabilities and concepts inherent in the Akinon Instore application.
Instore Capabilities​
Customer Management​
Akinon Instore is a dynamic application enabling brands to generate new customer profiles and place orders for customers directly within the store.
Product Management​
The Instore application compiles a list of products entered through the Omnitron channel. Store employees can check the listed products, filtering, sorting, and searching according to specific criteria. Instore facilitates sales transactions for the designated customer.
Completing an Order​
The Instore application interacts with Commerce APIs, streamlining order transactions. By selecting a customer through the Instore app, basket information becomes accessible. This basket serves as the foundation for completing payment transactions and converting in-store orders. During checkout, various transactions, such as creating a new customer address, selecting a shipping company, and choosing a payment method, can be effortlessly executed. Instore provides diverse payment options, including Pay with QR, Cash, and IVR, ensuring a swift and efficient payment process.
Order Management​
Order Returns

Order returns involve cancellation/return requests initiated for orders or products through the Instore platform. Requests received via the Akinon Instore application are transferred to Omnitron.

Click & Collect Orders

The Click & Collect system empowers store employees to manage package and order operations, even if the OMS system is not fully integrated into the Instore app.

Click & Collect Acceptance

Click & Collect Acceptance involves the transfer of prepared orders from one store to another, particularly if the order contains out-of-stock products. Customers are notified via email once the product reaches the store where the order originated.
Click & Collect Delivery

This process allows for the delivery of in-store pickup orders directly to the customer by the store using the assigned order number.
Package Management​
Package Orders

Managing the packaging operation of an order is facilitated through Package Orders, employing defined scenarios. Instore utilizes Akinon OMS functionalities to list, filter, print, and sort packages based on their status. Operations such as shipping, preparing for customer delivery, marking a package as out of stock, and rescheduling the package transfer can be executed.

Transfer Orders

Transfer Orders manage the transfer processes of orders between stores, also managed through Akinon OMS functionalities. The Transfer Orders page allows for listing, filtering, printing, and sorting transfers based on desired statuses, simplifying brand-wide transfer operations.
Settings Management​
The Instore application allows for the definition of special settings for individual stores. This includes tasks such as adding a logo, changing language preferences, adjusting font styles, and defining general color schemes. Additionally, stores have the flexibility to customize layouts and functionalities according to their specific preferences.